Bath Design & Build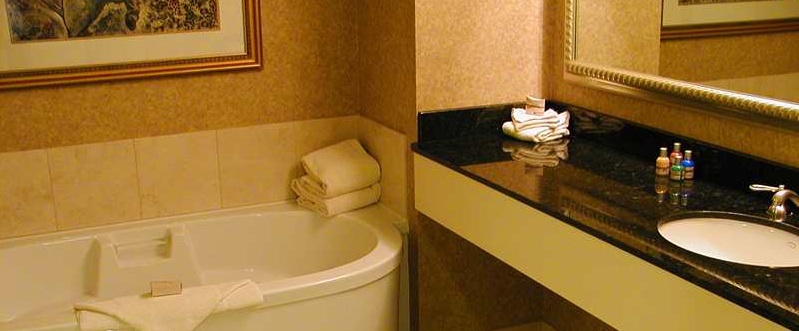 Rules And Considerations For Residential Baths:
Size becomes the major consideration whether your bath is new construction or a remodel. Size constraints determine not only the layout but also the type and size of the fixtures.

The next and almost as important consideration becomes the drain runs. Of particular importance is the 3" line for the toilet. It can only be 3 feet from the vented 3 or 4 inch vertical run in the wall. If the toilet is farther than this from the vertical run, then a vent has to be added and this too contains restrictions. These restrictions can be limiting in a remodel but less so in new construction design. Sink drain position also becomes a restriction when trying to reposition a sink in remodels.

Walkway becomes the next consideration with 2 1/2 feet being the minimal critical measurement between the toilet and wall or tub. Toilet footprint depth normally is 28" from the wall to the front edge of the toilet and 18" wide at the toilet tank.

Toilet clearance needs to be no closer than 15" from it's center (each side) to any side wall, cabinet, shower, etc.
On site design and inspection is needed to take these and other considerations into the project mix before you even get to the 'look and feel' that you want. Our expertise can take you from the design to the final construction in an efficient and proffesional manner.
Typical Bathroom Dimensions to consider:
Full bathroom approximate minimum with tub & shower combo, toilet & sink is 5x8 feet
Small bathroom approximate minimum with corner shower, toilet & sink is 6x6 feet
Half bath or powder room is approximate minimum with powder room, toilet & sink is between 3x6 and 4x5 feet
Water closet approximate minimum with just toilet is 3x6 feet.
2-1/2 feet x 5 feet is the standard bath tub, tub / shower size.
3 x 3 feet is the typical size of a shower stall.
2 foot deep cabinets in the bathroom are standard
5 to 6 feet of space is needed for double sink vanities
30" used to be the standard vanity height (to top of counter) but now you will find 36" is the preferred height.
30 inch space in front of a toilet or bidet is standard
26 inches off the floor is the standard height for toilet paper holders, and 52" standard for a towel rack.
Permit Considerations:
Remodels and bathroom additions to existing structures will require plumbing and electrical permits. Many times a structural permit for the interior walls will not be needed unless bearing walls are removed or added.


Pricing
Bids on request, please call or email. We will come out and look at your project.